Ashley Labodda examines desire and reason in the moral motivations for altruism
Published: April 20, 2023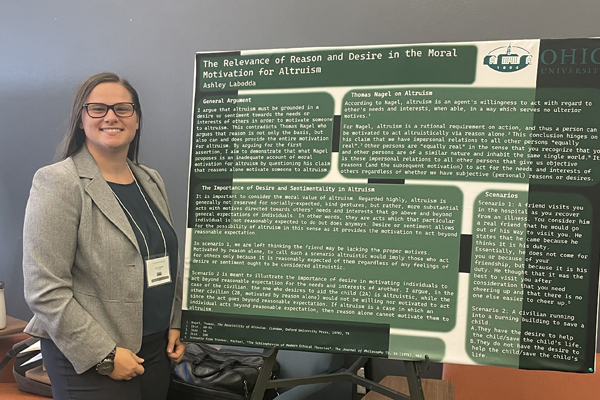 Ashley Labodda thought she was headed to medical school, until she found her way to Ohio University. Now instead of asking patients about their symptoms, she's asking philosophical questions about human motivations and morals as she pursues her interests in moral philosophy, moral psychology, bioethics, and the philosophy of science.
Her master's thesis delves into a question about why people go above and beyond to help other people. Broadly speaking, do they act out of altruism or obligation, desire or reason?
"Take a non-familial example: a child is trapped in a burning building. A bystander runs in to save the child. In an identical scenario, it is a firefighter who runs in to save the child," said Labodda, who's planning to pursue a doctoral program after finishing her M.A. in Philosophy this summer in the College of Arts and Sciences.
"Disregarding the altruistic nature of a person who chooses to risk their life in becoming a first responder, it is clear what is reasonably expected of the firefighter, and we would judge him distastefully if he were not to attempt to save the child. I argue that such a case is not altruism, but rather more of a reasonable, though risky, obligation," she said.
"In the case of the bystander, we do not reasonably expect him to risk his life, and if he were not to attempt to save the child, we would not judge him in the same manner we would judge the firefighter. The bystander is acting altruistically by attempting to save the child. There is something different about the bystander performing the act. Regardless of if the firefighter felt a sense of sentimentality or empathy for the child, though we may be hopeful that he has such feelings, he can see his rational obligation to attempt to save the child. The bystander has not such obligation and thus in his attempt to act, his feelings of sentimentality and empathy play a fundamental role in his motivations to act," Labodda explained.
Labodda, who contradicts American philosopher Thomas Nagel, argues reason alone fails to capture the full motivation of someone who acts altruistically.
"Feeling and sentimentality allow us to act beyond what is reasonably expected of individuals, and thus, I argue, it plays a crucial and foundational role to the moral motivation to act altruistically," she said.
Thanks to the generosity of alumnus Pete Stoy, the Philosophy Department was able to support Labodda's presentation of her research last summer at the 15th Annual Rocky Mountain Ethics Conference in Boulder, Colorado, where she presented her research on "The Relevance of Reason and Desire in the Moral Motivation for Altruism."
"She returned from the conference energized and with a deepened confidence in her abilities as a professional philosopher. Pete's support was crucial to making that possible," said James Petrik, professor and chair of philosophy in the College of Arts and Sciences. Labodda also presented her work on "Evolution and Ethics: The Development of Morality in Light of Evolutionary Theory" at the 2023 Student Expo.
How did a summer research project in biomedical ethics in her freshman year of her undergraduate career put Labodda on a path broadly exploring how the human species developed a sense of morality?
Q&A with Ashley Labodda
Q: Is altruism the central theme of your thesis, or are you looking at other ethical issues as well?
A: This project is focused on moral motivation. In moral contexts, what motivates us to act in the ways we do. In this essay, I focused on moral motivation in relation to altruism. It can be argued that we can be motivated to act solely because we are told to, we want to regardless of if anyone wants us to, a combination of both, or even some other motivation.
I explored this question in connection with altruism. Thus, this project falls within work in moral psychology which explores how and why humans behave in the ways they do in moral situations. However, my research interests extend beyond moral psychology and questions or moral motivations and our reasons for acting.
Additionally, I explore broader metaethical questions such as how and why we, as a human species, developed a sense of morality, not only why we think certain things are right/wrong or good/bad but also why we even have the capacity to judge certain things as right/wrong or good/bad. I also do work within biomedical ethics focused topics such as healthcare equity, informed consent practices, and medical research ethics.
Q: What are your next steps after graduation? And what is your career goal?
A: After applying to multiple philosophy Ph.D. programs across the country, and I am happy to share that I have accepted an offer from the University of Rochester. I am looking forward to developing more as a scholar as I complete my Ph.D. After completion of the Ph.D., I would like to pursue a career in academia with both teaching and research responsibilities.
Q: What path did you follow to get where you are today?
A: I completed my undergraduate degree at a small liberal arts university in Wisconsin, Carroll University. I received a Bachelor of Science in biochemistry with minors in Spanish and philosophy. Going into my undergraduate career, I had intentions to pursue an MD. However, I was granted a unique opportunity to complete an independent summer research project in biomedical ethics with one of the philosophy faculty at the university.
I enjoyed the academic rigor and thoughtful discourse that went into complex issues such as those found in biomedical ethics. Upon the completion of that project, I decided to take more philosophy courses on a variety of topics which allowed me the opportunity to foster my interests in other research areas in philosophy. In the last two years of my undergraduate career, I decided to pursue a post-undergraduate education in philosophy. I feel my background in other disciplines like biology, chemistry and medicine have shaped a lot of my current philosophical interests and have contributed to my continuous goal of building myself into a well-rounded scholar.
Q: Who were your favorite professors and how did they make an impact on your life? Was it coursework or a life lesson that they passed on? And how did you apply that knowledge?
A: As a graduate student, you have a more one-on-one professional relationship with your professors. The faculty in the Philosophy Department at Ohio University are all extremely bright scholars who are also extremely caring in regard to our success as future colleagues. All of the faculty have been influential to both my intellectual and professional development and success over the past two years. If I had to narrow my list, I would say professors Dr. Scott Carson and Dr. Christoph Hanisch have been particularly helpful, but there have been many other professors both at Ohio University and Carroll University that have helped me immensely along the way.
Since starting at Ohio University in fall of 2021, I have had a class with Dr. Carson every semester. In my first semester, I had philosophy of science with him. Coming from a STEM background, I was glad to have the opportunity to engage with a field of philosophy that interacted with the scientific realm I was familiar with. Through his class, I began to see where I may be able to advance my own ideas and interests in the field of the philosophy of science. Since then, I now consider philosophy of science one of my primary research interests, and it has influenced my current work on my master's thesis of which Dr. Carson is the primary advisor. I have always appreciated his support.
Dr. Hanisch has also assisted me during my time at Ohio University. As an ethicist, his research interests and my own have a lot of broad overlap. Through his classes and one-on-one academic discourse, I have developed a stronger understanding of the contemporary issues in the ethical debates I find myself interested in contributing to. Dr. Hanisch is always willing and able to meet with students in order to assist them in their intellectual endeavors, and for that, I am grateful for his support as well.
Q: What was your ah-ha moment at OHIO—that point where you said to yourself, "I've got this!"?
A: Well, I still have a thesis to finish and defend, so I don't know if I have gotten my "I've got this!" moment yet. If I had to think of one, I might say after my first lecture as an instructor of record. In our program, if you are a graduate teaching assistant, you teach your own independent course in the second year of your master's. As an instructor of record, we are responsible for all those things expected of an instructor such as picking texts, planning content that aligns with general core requirements, constructing and planning a course syllabus, etc.
I thoroughly enjoy teaching and engaging with students and their ideas. After finishing my first lecture (not including syllabus day), I felt a real sense of confidence and accomplishment that I could actually develop myself as a good professor and strong academic. Nonetheless and in general, I am proud of all that I have achieved and accomplished since beginning my journey here at Ohio University.
Q:  What was the hardest hill you had to climb (not counting Jeff Hill) at OHIO? And how did you overcome challenges or obstacles in your path?
A: Coming into graduate school, I had a lot to learn about the field of academia. Given that I wanted to go to medical school for the longest time, I wasn't entirely familiar with the responsibilities and obligations of professors and their roles within the larger academic community. Additionally, none of my immediate or close extended family have pursued or completed a graduate education. Thus, I didn't have much support in terms of people who could share in my experience. Since coming to Ohio University, both the faculty in my department and the professional community at Ohio University have given me a great environment to learn various expectations and develop myself as I continue on in my education.
Q: What are your favorite OHIO memories?
A: While attending Ohio University, I have made many close friends in my department. Some of us have gone on trips to Columbus together, and we often go hiking at Strouds Run. An important part of surviving graduate school, or even college in general, is finding a close support network who will both support you, engage with you on your thoughts and ideas, and push you to be the best version of yourself both professionally and personally.
Q: What's the one thing you would tell a new OHIO student not to miss? 
A: I would have two pieces of advice. First, I would say, for both undergraduate and graduate students, it is important to find a support network either through a team, club, organization, or through your department's major. Aside from possible support one may have from family and friends, having a support network who is in a similar situation to you is critical, I think, to your mental, physical, and emotional well-being in college.
Second, since becoming a graduate TA and an instructor, I offer this piece of advice to students, mainly college freshman: Always ask questions, and do not be afraid to express your questions and concerns to a professor. Not only it is possible that someone else has the same exact question or situation, but also, the worst we can say is "no." You are better off asking then wondering. You are here to learn; take advantage of that time.