Soon after graduation, Scripps alumni cover national championship
Published: April 25, 2023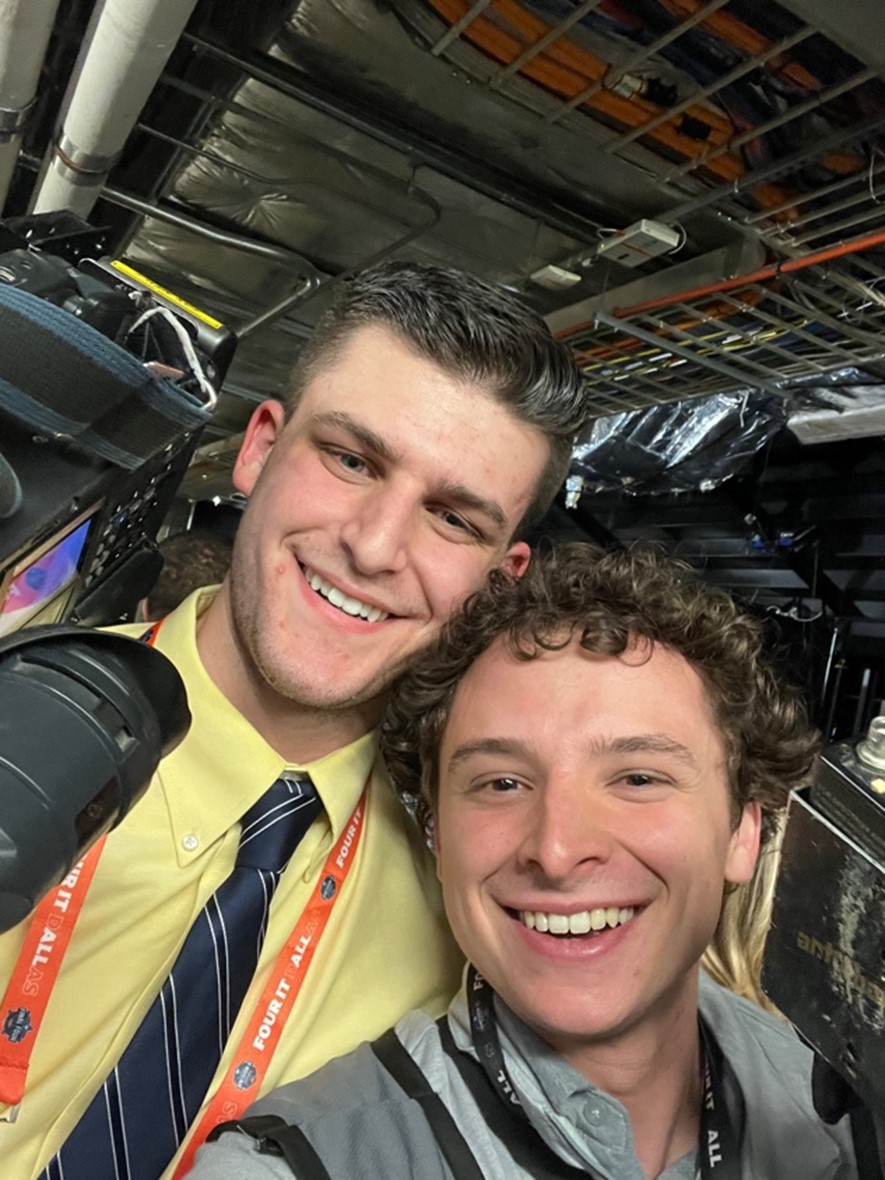 The NCAA Final Four women's basketball championship was an exclamation point for the reach of the sport, and also for the power of experiential learning at Ohio University.
In Dallas, alumna Mary Beth Bardin (BSJ '77) provides perspective: "The scale of women's collegiate basketball today would have been unimaginable when I graduated from Ohio University in 1977. To see the women's Final Four now played in my hometown is amazing. The excitement and attention here are no less than for the men, and it's so cool to see Scripps grads helping to capture and share these thrilling moments with the rest of the country."
Just months after graduating from the Scripps College of Communication, OHIO alumni were in Dallas covering a national championship.
Curtis Feder, Iowa's News Now
Curtis Feder graduated in December (BSJ) and moved to Cedar Rapids as sports anchor for Iowa's News Now (KGAN CBS2).  
"Not even two months into working for Iowa's News Now and I get to cover one of the best sporting moments of the NCAA basketball season," Feder said as the University of Iowa women's team began its run through the college tournament. Louisiana State beat Iowa in the championship game April 2.
Feder — who just turned 22 — was ready. Experience at WOUB as multi-media journalist and anchor "gave me the foundation of covering sports and WOUB's connections got me internships that let me sharpen those skills," Feder said.
Even when he's on the court with celebrity athletes and broadcasters, "I don't shy away when the camera is rolling," Feder says.    
At the Final Four arena in Dallas (American Airlines Center), Feder wasn't the only recent Scripps graduate on the job.
Will Laterza, NCAA Digital
Will Laterza (BSJ '22) moved to Dallas after spring commencement. A videographer, he covered the 2023 Final Four games for NCAA Digital.
"I got the money shot," said Laterza after Iowa upset South Carolina in the semi-final March 31.
His video clip of Iowa star Caitlin Clark celebrating after Iowa's 77-73 win was an immediate hit on social media.  
At Ohio University, Laterza got video and editing experience at WOUB, ESPN3 and Ohio University Athletics. He also did video work for the Baltimore Orioles and Ohio State Men's Basketball.
In Dallas, Laterza is a lead videographer for NCAA and Live Content Correspondent for the National Football League (yes, he has highlights of Bengals quarterback Joe Burrow playing the Dallas Cowboys).
Nathan Hart, Ashland Source
Nathan Hart (BSJ '22) joined the Ashland (Ohio) Source after spring graduation.
Less than a year later — on April 1, 2023 in Dallas — the Ashland University Eagles won the NCAA Division II Women's Championship, capping an undefeated season. Hart was courtside posting constantly, using all-caps when Ashland won the title.
At Ohio University, Hart worked for four years at the student-run The New Political. Plus, he was a Statehouse News Fellow for WCPO 9 News in Columbus and an intern for the McClatchy news bureau in Washington, DC in 2021.
"Ohio University taught me everything I needed to know to write quickly, cleanly, and evocatively — essential skills when you're covering a fast-moving story like a national championship," Hart said.
Just-out-of-school journalists mix with elite veterans at the Final Four
Final Four photos by Maddie Meyer (VisCom '14) of Getty Images were widely published by The New York Times, ESPN and more, including the website of Curtis Feder's TV station Iowa News Now.