Three alumni win Konneker Medal for Commercialization and Entrepreneurship
Published: April 20, 2023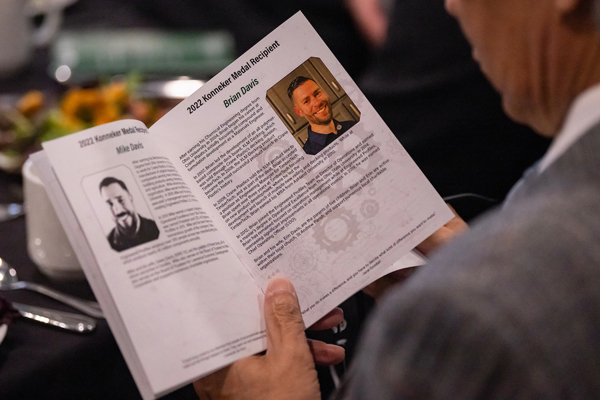 Dylan Benedict
Three Ohio University alumni, the core of the leadership team at Engineered Profiles, were awarded the Konneker Medal for Commercialization and Entrepreneurship at the university's Inventors Dinner on April 17.
Engineered Profiles, located in Columbus, Ohio, is North America's largest profile extrusion manufacturer. The Konneker Medal went to Michael Davis '02 Mechanical Engineering, president and chief executive officer; Brian Davis '04 Chemical Engineering, chief operating officer; and Adam Wachter '04 Accounting and Management Information Systems, chief financial officer.
"In 2009 when these individuals began their leadership roles as part of a new ownership group, the company was operating in survival mode and struggling to remain profitable amidst an economic recession. But they didn't let these challenges deter them. Instead, they refocused the company on its core competencies and unique capabilities, setting a bold vision for the company's recovery and future growth," said Russ Professor of Mechanical Engineering Jason Trembly.
"Their unwavering commitment to excellence is evident in their individual contributions which have doubled Engineered Profiles' revenue, increased their workforce by 80 percent, acquired another small business, and started a second manufacturing plant in Ironton, Ohio, all while significantly improving profitability," Trembly added.
Ohio University President Hugh Sherman took the opportunity to laud the incredible work being done by OHIO students and alumni.
"We have truly incredible work going on every day – Work that is changing lives. Our students gain essential knowledge and experience at Ohio University. And after they graduate, our students go on to do great things," Sherman said. "It is astounding to see the work of our alumni and to see how many of them have achieved success as entrepreneurs."
"Ohio University has at the core of its mission the education of students and the creation of knowledge. We're very pleased to have the opportunity to recognize a group of our researchers, including students, who are actively advancing the frontiers of knowledge, and taking steps to ensure that their discoveries will move out of the university to benefit society more broadly," said  David Koonce, interim vice president for research and creative activity and interim dean of the Graduate College.
Read more about the 2022 Konneker medal recipients.
About the Konneker Medal for Commercialization and Entrepreneurship
The Konneker Medal was established by the Ohio University Foundation to recognize current or former faculty members, as well as students and alumni, who have demonstrated excellence in innovation, invention, commercialization, and entrepreneurship. Recipients are chosen based on nominations reviewed by a judging committee with representation from faculty, university leadership, and the Technology Transfer Office.
Will Konneker was an Ohio University alumnus with a distinguished record in research and entrepreneurship. He graduated from Ohio University in 1943 with a bachelor of science in chemistry from the College of Arts and Sciences. He entered the military during World War II and was assigned to the Army Corps of Engineers' secret Manhattan Project, working as part of the effort to develop the atomic bomb. After the war he returned to Ohio University, where he earned a master's degree in physics in 1947. He went on to receive a doctoral degree in nuclear physics from Washington University in 1950.
Konneker founded the Nuclear Consultants Corp. in St. Louis, Missouri. He either founded or co-founded six additional high-tech start-up companies. Konneker was instrumental in the establishment of Ohio University's small business incubator, the Innovation Center, as well as the successful university biotechnology spin-off company Diagnostic Hybrids Inc., now a unit of the Quidel Corp. He was one of the principal architects of the Cutler Scholars program and a member of the Ohio University Foundation Board of Trustees. The research building housing the Edison Biotechnology Institute at the Ridges was named in his honor to recognize his leadership and service. The Konneker Alumni Center also was named for Will and his wife, Ann Lee.