Alumni Leadership Award winner found the road to servant leadership at OHIO Southern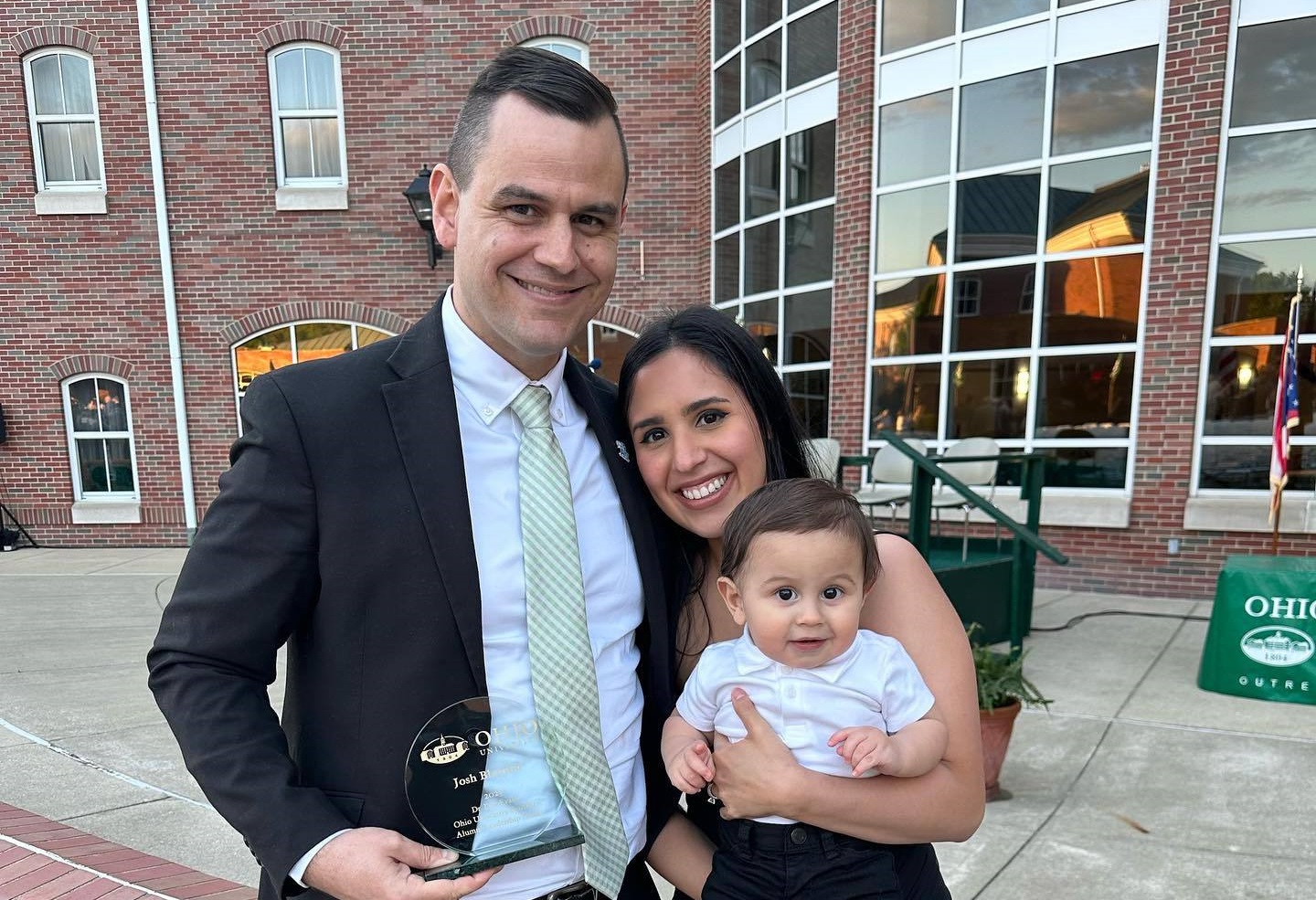 A variety of paths lead students to Ohio University Southern, and the experiences students gain over the courses of their education are just as diverse. This year's Dan Evans Alumni Leadership Award winner had a nontraditional path that led him farther than he ever anticipated going.
"I went for my first year, and then essentially was taking a quarter off here and there because I was working, waiting tables at C.R. Thomas," said Josh Blanton, who started his bachelor's degree program at Ohio University Southern in 2000. Blanton's academic advisor, John Miller, helped keep him on track.
"No matter how many times I showed back up to his office after I had to take time off, he understood the situation and said, 'Here's what we need to do put you on the right path,'" said Blanton.
A Lawrence County native, Blanton graduated from Symmes Valley High School.
"I think our graduating class was 54 people," he said. "I grew up in a single-wide trailer in Wilgus, which is literally just an intersection. Going away to college, that whole experience – that's awesome that people get to do it, but that just wasn't available to my sister and me."
Blanton spent several years taking classes on and off, until he found inspiration in a professor. 
"The person who turned it around for me was an adjunct, Randy Ashburn," he said. "I loved him so much because he was the devil's advocate in every argument. He would ask the students' opinion on something and take the other side immediately to challenge them. That started the process of learning how to think critically for me."
Blanton took every class Ashburn offered, some of which were not required for his degree.
"He offered constitutional law and my degree was in health care administration, so it had nothing to do with my degree," he said. "I wrote a 25-page paper for him like it was nothing. I think that's when you know you enjoy it, when something like that feels like nothing."
Ashburn inspired Blanton to become an adjunct professor himself.
"He was the spark that propelled me to finally settle on a major and graduate. I finally did graduate in 2007," he said.
In addition to teaching supply chain logistic classes, Blanton is a leader in both public service and industry. He is plant manager for Vesuvius, a metal flow engineering company located in Wurtland, Kentucky, and was elected as a commissioner for the city of Ashland, Kentucky in 2020.
"When I started my career, I was 25. I was in a steel mill, I didn't know anything about making steel, and had 20 people who were all twice as old as I was. How am I going to have credibility in that situation? I always say I stumbled into service leadership," he said. "I found it on accident because I was trying to survive. I realized… I'm going to have to listen to these people, and learn from these people, and literally serve these people."
Over the years, Blanton realized this style of leadership doesn't just help him survive – it helps him thrive.
"Seeking to make sure your people have what they need, that's really what it's about," he said. And it translates to his work with the city, as well.
"Servant leadership is a term that gets thrown around sometimes. I've seen it in work life, but also in certain public service. That's something I really subscribe to," he said of his obligation to his constituency.
As far as advice that can be imparted to students, Blanton says to "show up, which sounds so simplistic. But I can think of examples in my life where I've woken up and literally not wanted to get out of bed." He shared memories of 6 a.m. shifts at the steel mill, driving 30 minutes to get to class, and how not showing up would've drastically altered the course of his life. 
After graduation, "I kept showing up," he said. "It didn't matter that there may be people more experienced or just a lot better at whatever the job is. Sometimes they don't always show up. And sometimes if you're in the right place at the right time, opportunities present themselves."
Blanton was surprised he was capable of excelling in Professor Ashburn's classes and taking a position as a supervisor.
"Something in my head was like, 'Wait a minute, I'm not supposed to be able to do that,'" he said.
And that feeling of surprise keeps making a return.
"A couple months ago, we're sitting in (Kentucky governor) Andy Beshear's office, and I'm like, 'What am I doing here?' Well, I beat the odds for 15 years. Why not be here?" he said. "It is intimidating, but I always say you will very rarely regret showing up."
In addition to showing up, Blanton said it's important to make the decision to fully listen to others.
"I heard a speech about listening and listening with the intent to understand rather than the intent to reply, and that really hit," he said. "You have to really listen, not just act like you're doing it."
Blanton also shared advice that was imparted to him by his father.
"My dad was a union steel worker for 40 years and he gave me a piece of advice that's pretty simple, and everyone's heard it, but it really is true," Blanton said. "He said everything you're going to go through, you're going to learn from that experience, good or bad."
His dad was right, Blanton said.
"Every one of those experiences have built to where I am now. Everyone can deal with the good times, it's how you respond and react in the tough times," he said.
Blanton remembers a host of people who helped him achieve his degree, including his sister, Dr. Rowe, Donna Dingus, and the Alumni Leadership Award's namesake, Dr. Dan Evans.
"If it wasn't for Ohio University being there, I would not have had the option," Blanton said. "My career, my public service… It took a long time to get it, but I don't know where I'd be in my life if I was not able to get that degree."