Study abroad experience in Spain cements OHIO senior's goals
Published: August 24, 2023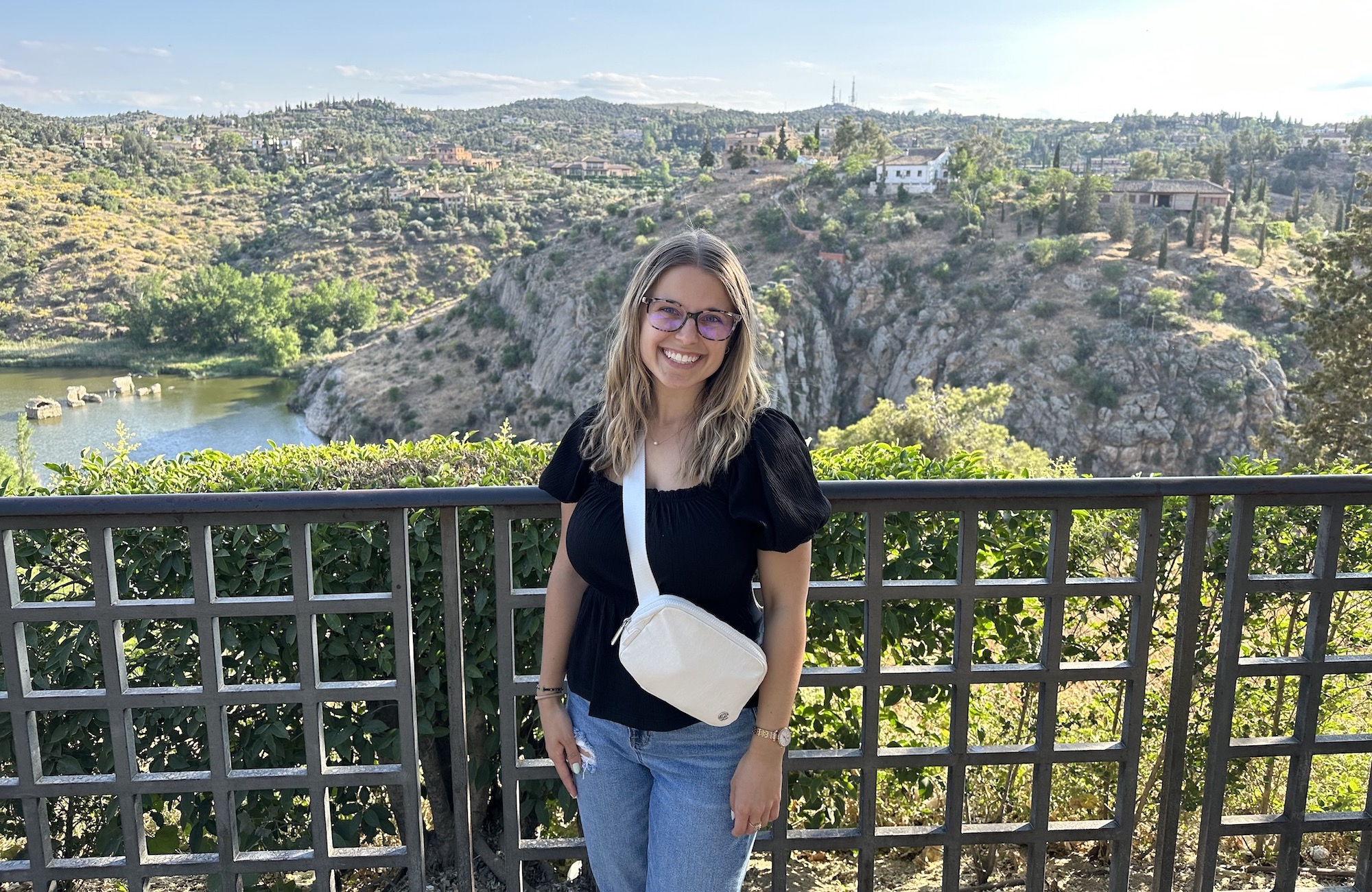 Ohio University senior Grace Weisel spent two months this summer in Toledo, Spain, immersing herself in a new country by living with a host family, touring Spain, and taking classes. 
Weisel is majoring in Spanish through the Honors Tutorial College and Global Studies – War and Peace through the Center for International Studies in the College of Arts and Sciences. She is also earning a Latin American studies certificate through the Center, and a political science minor through the College of Arts and Sciences. 
The study abroad experience is required for her majors, Weisel explained. She discovered the trip through the Office of Global Opportunities after talking to some of her professors. 
"I looked at every program that was available and I thought, this is definitely the best fit for me," she said. "And – it was amazing." 
Weisel's experience cemented her desire to continue using and learning about Spanish after her graduation this fall, hopefully in her future career in law. 
While in Spain, Weisel enrolled in three classes – a Spanish history and culture class, Spanish advanced literature, and modern languages. The credits earned there transferred to her degree here at OHIO. 
Thanks to living with a nearby host family, Weisel was able to easily walk to class and explore the city. She was also able to tour the country, build on her language skills and create long-lasting connections with the family, consisting of a host mom, host dad and a host brother who was 11.
"I am very thankful I did have a good experience," she said. "You never know what you're going to get when you sign up to live with a host family. My host family was terrific. They always fed me three delicious meals a day – they took really good care of me. I don't think I would have had as good of an experience if I didn't have a host family."
Throughout the week, Weisel would travel back and forth to her classes as well as hang out with fellow OHIO students in the program. Each Friday, the students would go on all-day excursions around Spain, touring different cities and learning their histories. 
 
Something cool about college is that you gain a lot of independence really quickly. With study abroad, you gain a lot of independence quickly as well. — Grace Weisel, Class of 2023 
While abroad, Weisel also traveled to Italy, some coastal cities and her host family's hometown. 
"Something cool about college is that you gain a lot of independence really quickly. With study abroad, you gain a lot of independence quickly as well. You're forced into this new environment, and it's hard to push yourself when you're uncomfortable but it's worth it," Weisel said. "If you're going to travel anywhere, you have to be willing to be uncomfortable a lot of the times. It's hard – you're using a second language, and nothing feels familiar. You have to be willing to try new things, say yes to new experiences and it'll definitely push you out of your comfort zone. But that's a good thing." 
Weisel recognizes that money is a huge factor in preventing students from studying abroad. She encourages fellow students to look at and apply for as many scholarships as they can, and discuss options with a faculty member they trust. 
Thanks to scholarships through multiple OHIO departments, Weisel was able to fund over half of her entire trip. 
"I couldn't have gone without the scholarships. They were very, very helpful," she said. 
Back in Athens, Weisel stays busy on campus in addition to her studies. She is a campus tour guide as well as a member of Phi Beta Kappa and Sigma Delta Pi, the national collegiate Hispanic honor society. 
She volunteers for the Foreign Languages in Elementary Schools (FLES) program, where she teaches Spanish at Alexander Elementary School in Athens County. Plus, she is a part of YoungLife and the Growth International Volunteer Excursions (GIVE) Club.
"I think the benefit to being involved in a lot is that you meet so many people, make so many connections, build so many experiences like personal growth experiences and academic growth experiences," she said. "It's a great way to make friends."
After she graduates this fall, Weisel plans to study for the LSAT and eventually apply to law schools. She aims to use her Spanish language skills to help clients in the future. 
"I'm very excited to pursue law. I knew going into college that was what I really wanted to do," she said. "I would love to pursue international law or work as an attorney for a nonprofit organization. I want to use Spanish in my career. I think it would be awesome to continue working with that community."