Students search for linguistic answers in Southern Ohio Language Project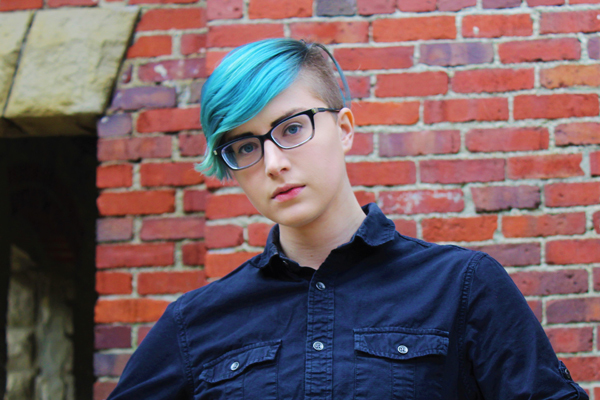 Getting ready for the Student Expo
For Skyla Matteson, the big question is about "but."
For Will Mullen, "ing" is a variable worth studying.
Noah McGeorge is on the hunt for intergenerational language variations.
Lynden Caldwell is studying a vowel to see if people "sound" as Appalachian as they think that they do.
And Molly Krannitz is focusing on Ulster Scots and their influence on Appalachia.
All five linguistics students have dug their roots into the Southern Ohio Language Project as a way to gather information and study how area residents use language. And although each has a different project on display at the Student Expo on April 7, they form a fun team with their faculty mentor, Dr. Michelle O'Malley in the College of Arts and Sciences.
Their projects are also part of the work of the Ohio Language and Culture Lab, which supports the study and documentation of regional language variation, including collaborative data gathering and interview efforts across the state of Ohio.
Does a vowel 'sound' Appalachian?
Caldwell is triangulating interview data gathered from sociolinguistic interviews in order to determine whether residents of Southeastern Ohio utilize the Appalachian English variant of a vowel.
"In other words, I am comparing interview conversations to phonetic tests that specifically elicit the vowel I am examining to see whether or not people 'sound' as Appalachian as they think that they do," said Caldwell, a graduate student in the M.A. in Applied Linguistics program who started this research as an undergraduate.
"Because the interviews that we collect in the lab are sociolinguistic, we gather anecdotal stories not just about the interviewee's life, but also about the culture of the region. So not only am I learning about phonetic use, I also learn more about the people and the culture of the region," Caldwell added.
Scottish influence on Appalachian language?
"For my project, I studied the history of the Ulster Scots and their influence on Appalachia, Ohio," said Krannitz, an English pre-law major minoring in linguistics. "I decided to pursue this topic because my great-grandmother was Scottish, and I find her infinitely interesting. My project stemmed from personal interest and love for linguistics."
To gather data, Krannitz constructed a survey to help determine whether aspects of Ulster Scot speech are still evident today. She used a study of a 23-year-old male from Hocking County and a 17-year-old girl from Oak Hill.
"I found that we did see aspects of Ulster Scot speech within Ohio, but specifically in the more isolated communities," she said, noting, "The most exciting part of my research project was honestly looking at the survey responses I received and just having the opportunity to learn about the Ulster Scots."
'Depends on who we're talking to'
McGeorge said his project "is a conversational analysis case study that investigates the effects of ageist stereotypes on intergenerational talk in an interview with a Logan County resident."
"I was originally always a statistics-type, big-data kind of researcher. We run a survey that captures language variation, but we also conduct interviews. I became interested in why there were contradictory results between our survey-self-report and interview data," he said.
Then he discovered the research of Howard Giles and Justine Coupland, who wrote on the theory of accommodation, "which describes how we change our talk depending on who we're talking to. Turns out, a lot of accommodation is determined by the stereotypes we hold of the person we're talking to," McGeorge said.
He said the hardest part of his undergraduate research project was "narrowing down a theoretical focus amid a sea of literature." But the most exciting part, he noted, "has been the small talk it's started and the ideas that have budded from mine."
Learning about 'ing'
"As a resident of the area for my entire life, I have always been interested in the way that language is used here," said Mullen. "I have been studying in the linguistics program since 2018, and I joined the Southern Ohio Language Project in 2020."
"My presentation is about my work documenting the phonological variable (ing) in Appalachian Englishes. I am searching through the Southern Ohio Language Project's recorded interviews to find multisyllabic words which end with '-ing', such as verbs or gerunds. There is much variation in this environment in Appalachian Englishes, and this research seeks to more clearly identify the patterns of its variation and potential causes for this variation," said Mullen, who also is earning certificates in Russian Studies and Forensic Studies.
Mullen said that the hardest part of his project has been "putting my data into a presentable format. Presentations have always been hard for me to create, and it is often even more challenging for me to give the presentation." But he's had some practice before Expo, having recently presented at the Place-based Learning and Research Symposium held at the Ridges in March.
'But' there wasn't a lot of previous research
Matteson's project, "All About the But," uses linguistic analysis to explore which gender utilizes "but" more and for what purpose. She's using examination of lexical function, which allows her to describe the science and semantics of language.
"The linguistic analysis is still in progress, as this is exploratory research," Matteson noted. "What led me onto the topic is that I enjoy observing linguistics, more specifically syntax as well as semantics and pragmatics."
Matteson said the biggest obstacle to her research was finding relevant reference material to aid in her observations of participants' use of language. "There seems to be a lack of research on the topic I am exploring," Matteson said. So, she had to look more broadly in her research.
O'Malley, the mentor
All five students credit O'Malley as their mentor and guide in learning how to conduct research and present their results.
"Dr. Michelle O'Malley has been my advisor and one of my instructors since I began studying at OHIO. She has helped me to develop my academic and research interests over the course of my undergraduate studies, often through her own academic and research interests," Mullen said. "I have definitely enjoyed working as a part of my current research group. We are all working with the same or similar data, and it really helps to have the feedback of the group members."
Matteson added, "The faculty mentor that helped motivate me within the process of research was Dr. O'Malley. Not only did she help with any confusion that I had faced, but was open to being a helping hand within the research team that she has formed."
"My project is being presented as solo, but truly the Southern Ohio Language Project supports each other; I didn't do this alone," McGeorge said.  "I'm indebted to the experience of my seniors in the master's program, the fresh ideas from my undergraduate peers, and the practical guidance from Dr. O'Malley."
"When I first mentioned my research idea, she was as enthusiastic as I was about it. She's supported me in the research project and has been hands on with me, giving me support during the entire process," added Krannitz.
"Because I am a part of this group, my colleagues regularly challenge my perspective and encourage me in order to improve not only my process, but also the way that I consider the information I gather and analyze. My colleagues regularly inspire me," said Caldwell. "Dr. O'Malley was the initial reason I gained interest in sociolinguistic research."