OHIO brings in record-setting first year class to Athens Campus
Published: September 8, 2022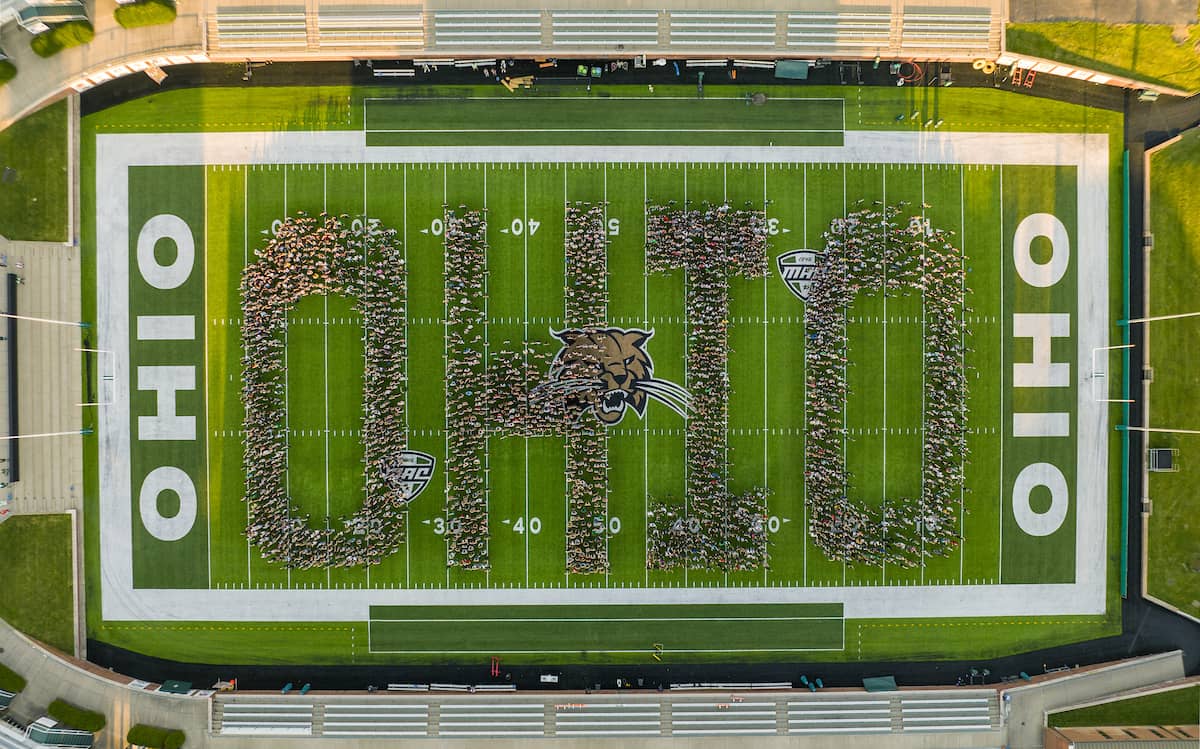 The anticipation for Fall Semester 2022 has been building for some time, and now it's official – Ohio University has welcomed the largest first-year class of students in the institution's 218-year history.
It's one of the most accomplished cohorts to enter, as well, with a record-high incoming average high school GPA and more students than ever enrolled in OHIO's honors and scholars programs. The University also enrolled more students from underrepresented groups in its incoming class, including a record number of Hispanic/Latinx students. And total enrollment in non-nursing OHIO Online undergraduate programs jumped again.
"We are thrilled that so many incredibly accomplished students have selected our University, and our focus now is on ensuring we connect each of them with the kind of transformational experiences that we are known for at OHIO," said President Hugh Sherman. "Each of them is destined for their own unique success stories that will become a part of our shared Bobcat identity."
Athens incoming first-year enrollment jumps 21 percent
In total, the Athens Campus welcomed the largest ever freshman class at 4,441 incoming first-year students, a 21 percent increase from 2021. The class includes the highest number of Ohio residents on record at 3,908, as well as 679 children of OHIO alumni and more than 1,100 students who will be the first in their family to earn a college degree. 
In addition, the Athens campus welcomed 310 new students transferring to the University, on par with 2021 numbers.
In all, there are 14,684 undergraduates and 2,194 graduate students enrolled in Athens Campus programs, hailing from all of Ohio's 88 counties, 49 different states, and 101 countries.
---
Highest average high school GPA on record; honors and scholars programs grow again
The incoming Athens Campus cohort has the highest average high school GPA on record since the University began tracking, with a 3.64 GPA. The class includes 153 students joining the first cohort of the University's new competitive 1804 Scholars program, as well as 437 new freshmen in the selective, University-wide OHIO Honors program. A total of 1,228 undergraduates are now enrolled in OHIO Honors, a new high. Nearly a quarter (23 percent) of the incoming Athens campus first-year students ranked in the top 10 percent of their class, with 129 students ranked number one at their school. 
---
Increase in underrepresented students, record Hispanic/Latinx numbers
The Athens Campus set a new record for incoming first-year students identifying as Hispanic/Latinx, with 198 students, a 32 percent increase over 2021 and 4.5 percent of the total incoming first-year class in Athens. The University also saw growth in the overall number of students from underrepresented groups in its incoming class at 609.
---
OHIO Regional Promise Award attracts students on OHIO's five regional campuses
Following the launch of OHIO's Regional Promise Award in March, 184 students took the University up on the offer to attend one of its regional campus at no cost, joining a total of 810 new incoming students across the Regional Higher Education system.
---
Growth in online undergraduate programs
OHIO's popular, 100 percent online RN-to-BSN program welcomed another 388 new students, and the total number of students enrolled in other OHIO Online undergraduate programs grew 33 percent over last year. This increase was bolstered by continued growth in four-year degree programs such as psychology and interior architecture, as well as 49 new students in the inaugural OHIO Online cohort of the Bachelor of Science in Business. 
---
Academic colleges see increases in incoming student enrollment
Nearly every academic college saw an increase in incoming student enrollment, with the Patton College of Education enrolling 353 first-year Athens Campus students, a 45 percent increase over last year. The College of Health Sciences and Professions enrolled 639 new students, a new record, while the College of Business had 772 new students declare for undergraduate business majors, a whopping 32 percent increase over 2021's record class. The College of Arts and Sciences (1,140) and College of Fine Arts (262) also set new records.
---
Heritage College of Osteopathic Medicine continues to lead in diversity
Ohio University's Heritage College of Osteopathic Medicine welcomed another incredibly diverse incoming class, with 27 percent of the class identifying as underrepresented minority students and more than 18 percent of the class indicating that they were the first in their family to attend college. The class was also academically strong, tying last year's record incoming average GPA of 3.68.
---
More graduate students on the Athens campus
The number of graduate students on the Athens campus also rose to 2,194, a year-over-year increase of over 9 percent. OHIO's students have plenty of opportunities to conduct groundbreaking research, as demonstrated by the University's recent jump to the Carnegie R1 research level, the highest recognized level in the nation.
---
Overall total enrollment at Ohio University saw a small dip from 28,770 to 27,634 as anticipated after graduating another large class this spring. Over the past several years, OHIO has seen increases in its four-year graduation rate, underscoring OHIO's commitment to student success.
Candace Boeninger, Vice President for Enrollment Management, said the OHIO Guarantee+, which further ensures students' on-time, on-plan graduation at a comprehensive fixed rate for four years, is one reason she believes students are choosing Ohio University. The Guarantee+ Graduation Plan was introduced in January of 2020 and has been enthusiastically received by new students, with more than 85 percent of eligible students opting into graduation plans for fall 2022.
"Families know that OHIO delivers an excellent, high-value education at an affordable price, and we've worked hard to keep that price down," Boeninger said. "Ultimately, our students have chosen Ohio University for our outstanding academic programs and the unmatched OHIO experience, which is supported by a community of talented faculty, staff, and OHIO alumni who are committed to helping our students succeed."
All data is considered preliminary and as of the 15-day census date of Sept. 6, 2022.