The Diabetes Institute celebrates its 10th anniversary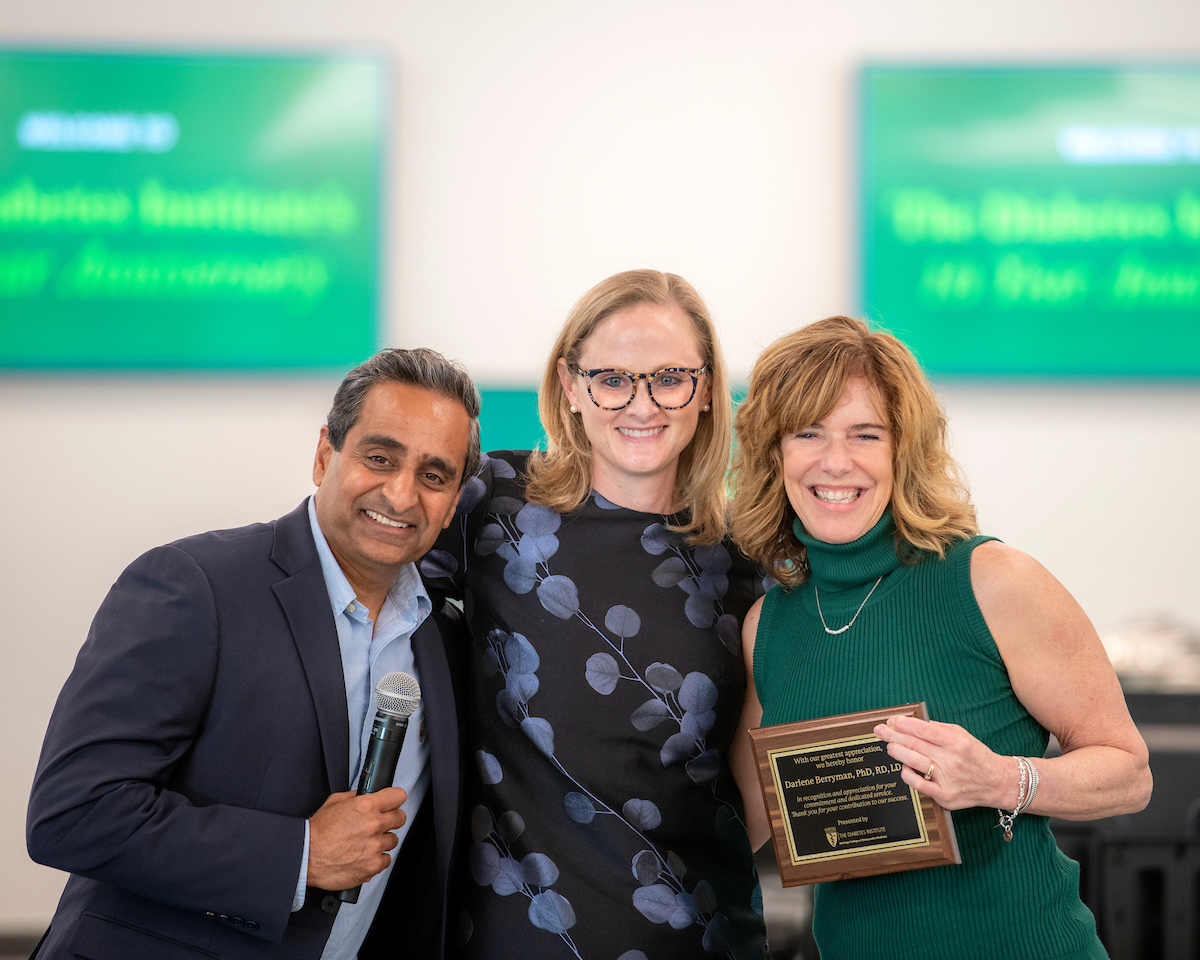 To mark the 10th anniversary of The Diabetes Institute, faculty, staff and supporters gathered to celebrate at Heritage Hall on April 4. The celebration highlighted the history of the Institute and presented several awards to those who have had a profound impact on its growth over the past 10 years.
The Diabetes Institute (DI) was first established in 2012 to consolidate diabetes-related initiatives across Ohio University and is guided by four pillars: basic and applied research, academic and professional training, patient care and community impact. It is based in the Heritage College of Osteopathic Medicine and comprised of 61 members from across five different colleges. Given the Institute's location in Appalachia where adults living in economically distressed counties are 1.4 times more likely to have diabetes than residents of non-Appalachian counties, DI Co-director Elizabeth Beverley, Ph.D., said, "We are a school in Appalachia. We get to study diabetes in Appalachia."
Advisor to The Diabetes Institute, David Harlan, M.D., likened the diabetes epidemic in the region to COVID-19.
"Everyone knows that COVID was a catastrophe and it killed (a little over) 9,000 people in Ohio last year, but diabetes directly kills half that many people every year – 4,500 directly die from diabetes every year, and no one talks about it," Harlan said. "If we don't do something about this, it's a health tidal wave that's just going to take us all."
In a video played during the celebration, Vishwajeet Puri, Ph.D. and co-director of the Diabetes Institute, spoke of the partnerships that the DI has in the fight against diabetes.
"We are all working together, with inter-institutional effort, we are also working with outside institutions in Ohio, which include the Cleveland Clinic, the University of Cincinnati, Ohio State University, Case Western University, and we are trying to bring this Diabetes Institute and develop it into a center of excellence," he said.
Puri and Beverly gave out several awards during the evening, including two appreciation awards to former directors of The Diabetes Institute, Darlene Berryman, Ph.D., R.D., L.D. and Calvin James, Ph.D.
Other appreciation awards given were:
Clinical Award – Amber Healy, D.O.
Past Director of Operations – Melissa Standley, M.Ed.
Community Impact Award – Karen Bailey
Diabetes Institute MVP – Jody Van Bibber
Research Award – Ed List, Ph.D.
Research Support Award – Judi Rioch
Academic and Professional Training Award – John Kopchick, Ph.D.
In addition, two awards were given to honor supporters of The Diabetes Institute: the first to the Executive Dean of Heritage College Ken Johnson, D.O., and the second to the Osteopathic Heritage Foundations (OHF), which financially supports both the Heritage College and The Diabetes Institute. Terri Donlin Huesman, president/CEO of OHF, and Megan Wanczyk, director of programs for OHF, accepted the award for OHF.
Johnson closed the celebration by saying how impressed he is, not only by the growth over the last 10 years but with the people of The Diabetes Institute.
"Everyone gives with their heart, that's what I stand in awe of – is how far we have all come by all of you giving with your heart to try to create a diabetes-free society," he said.