Where are they now? Student Expo winners find success – from Silicon Valley to the Big Apple
Published: March 30, 2022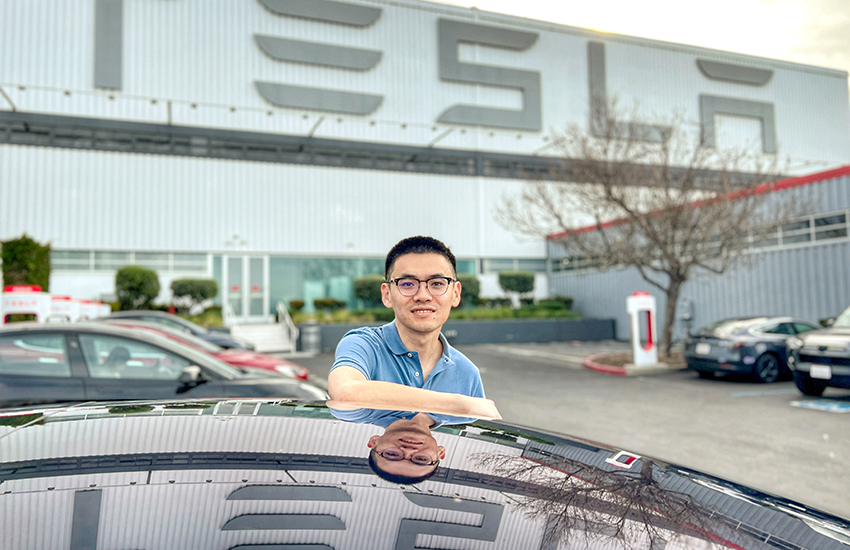 Photo by Christopher Polydoroff, MA '87
Each morning, Pengfei "Phil" Duan, MS '11, PHD '18, relaxes in his Tesla Model 3, confident his self-driving car will deftly navigate the streets of Silicon Valley. After all, it's literally Duan's job to ensure the vehicle's safety, reliability and comfort. He's been a software engineer for Tesla's autopilot project since 2017 and now leads one of its teams. 
Meanwhile, in Brooklyn, New York, Lily Gelfand, BFA '18, packs her looper pedal and microphone and grabs her cello—plus her yoga mat and dance bag. On any given day, you can find Gelfand rehearsing new choreography at David Dorfman Dance, accompanying dance classes at The Juilliard School, and/or leading yoga classes throughout the city.
On opposite ends of the country, these two Bobcats lead vastly different lives. However, their divergent professional paths each trace back to an Ohio University event that for 20 years has provided students an opportunity to showcase their research and creative activity. 
As students, Duan and Gelfand both earned first-place awards at OHIO's annual Student Expo.
In honor of the Student Expo's 20th event on April 7, OHIO News caught up with these Bobcats to learn more about their Expo experiences and how those early research projects foreshadowed their subsequent success.
From snowplows to Teslas
Duan arrived from China to OHIO's Russ College of Engineering and Technology "very open-minded" about where his graduate work in electrical engineering might take him. 
His studies led him to the college's Avionics Engineering Center, NASA's Langley Research Center, two robotics competitions at the Institute of Navigation (ION), and even a summer visiting scholarship building drones in Barcelona, Spain. "I was at OU for six years, and I cannot ask for a better experience."
One thing Duan looked forward to each year was the Student Expo. For him, "Expo felt just like a festival." He recalls his excitement as the streets around the Convocation Center and Stocker Center lined with cars and people. As Duan recalls, the event pulled him out of his daily lab grind, exposing him to an "inspiring" range of student work.
Duan presented at the Expo three times, twice with a team of engineering students displaying a robot they constructed for an annual ION Autonomous Snowplow Competition—which they won both times. On a screen, the team demonstrated how its robotic snowplow used sensors and algorithms to "see" and navigate its surroundings independent of human operators.
"A lot of people who stopped by to see our work at the Expo, they're not actual engineers, so you have to develop the skill of how to explain this to other people," said Duan. "A lot of young engineers think you only need to build something. But it's also important to be able to sell the thing and the vision, to get people excited and inspired. Being optimistic about how technology can help in humanity's future is a great way to inspire more people to join the mission."
Duan also earned a first-place Expo award for research on aviation safety he conducted with the NASA Langley Research Center in Virginia. That work informed his dissertation, which landed him the William E. Jackson Award, presented each year by the premier aviation association, RTCA, to recognize the nation's leading graduate student in aviation electronics and telecommunications. 
When Duan became the 17th OHIO recipient of this top engineering award in 2019, he was already working for Tesla. Although his Silicon Valley career has veered from avionics, Duan sees many similarities between the work he presented at the OHIO Student Expo and what he does now.
Both the robotic snowplow and Duan's doctoral research on aircraft involved autonomous systems. "Now," he explained, "I'm working on fully autonomous vehicles. There's a lot of transferable skills and technical details, including the mindset of safety and the critical thinking, I developed at OU."
Dancing and composing her way to the Big Apple
When she started as an OHIO undergraduate, Gelfand focused her Honors Tutorial College studies on dance, while playing cello on the side. "I was a dancer and a musician, and I felt very comfortable within those two identities, but I didn't really know how to combine those or progress."
As a first-year student, Gelfand took a winter dance intensive with David Dorfman Dance in New York City. There, she met up with Jerome Begin, BMUS '96, who now directs Juilliard's music for dance.
"We saw this incredible cellist who does live looping," Gelfand said, noting that live looping is a process through which music is recorded and then played back in real time. "All of a sudden, these dancers came out, and I was like, oh—this is what I want to do."
Andre Gribou, professor of composition in OHIO's School of Music and accompanist for the School of Dance, encouraged Gelfand's newfound passion, training her in both live looping and musical accompaniment as her tutorial professor. "Everything became really focused, and my brain kind of exploded," she said. "It was everything I love to do in one!" 
Her sophomore year, Gelfand presented at the Student Expo. She recalls a touch of imposter syndrome while setting up her display board. "I saw these science folks with all of their numbers and just felt like, should I be here? Then I talked myself down like: No, research in the arts is just as valuable." 
Gelfand plugged her cello mic into an amplified looper pedal and got to work, improvising dance tracks while fellow Honors Tutorial College dance major, Matthew Keller, BFA '17, performed.
"Most dance classes are accompanied by a piano because there's two different lines: the rhythm aspect and the melody," Gelfand explained. "My research challenge was how to use a looping station with effects to create multiple lines on cello, while leaving the flexibility of phrasing for a dancing body—the breath and bones and muscle and skin and just that amazing human vessel—all with this metal box."
Gelfand left the Expo with a first-place award and a rush of confidence, dancing and accompanying dance classes with her cello and looper pedal in Putnam Hall.
"I'd leave my dance class, then set up to play for another dance class, then compose for different pieces," she said. "When I reflect on my experience in Athens, now [in New York City] I'm doing the same, exact things—but getting paid for it!"
Today, Gelfand thrives as an artist "wearing many hats" in New York—core dancer at David Dorfman Dance, dance accompanist at The Juilliard School and yoga teacher. She uses the same looping pedal—and skills she acquired through her Student Expo research project—in her creative work every day.